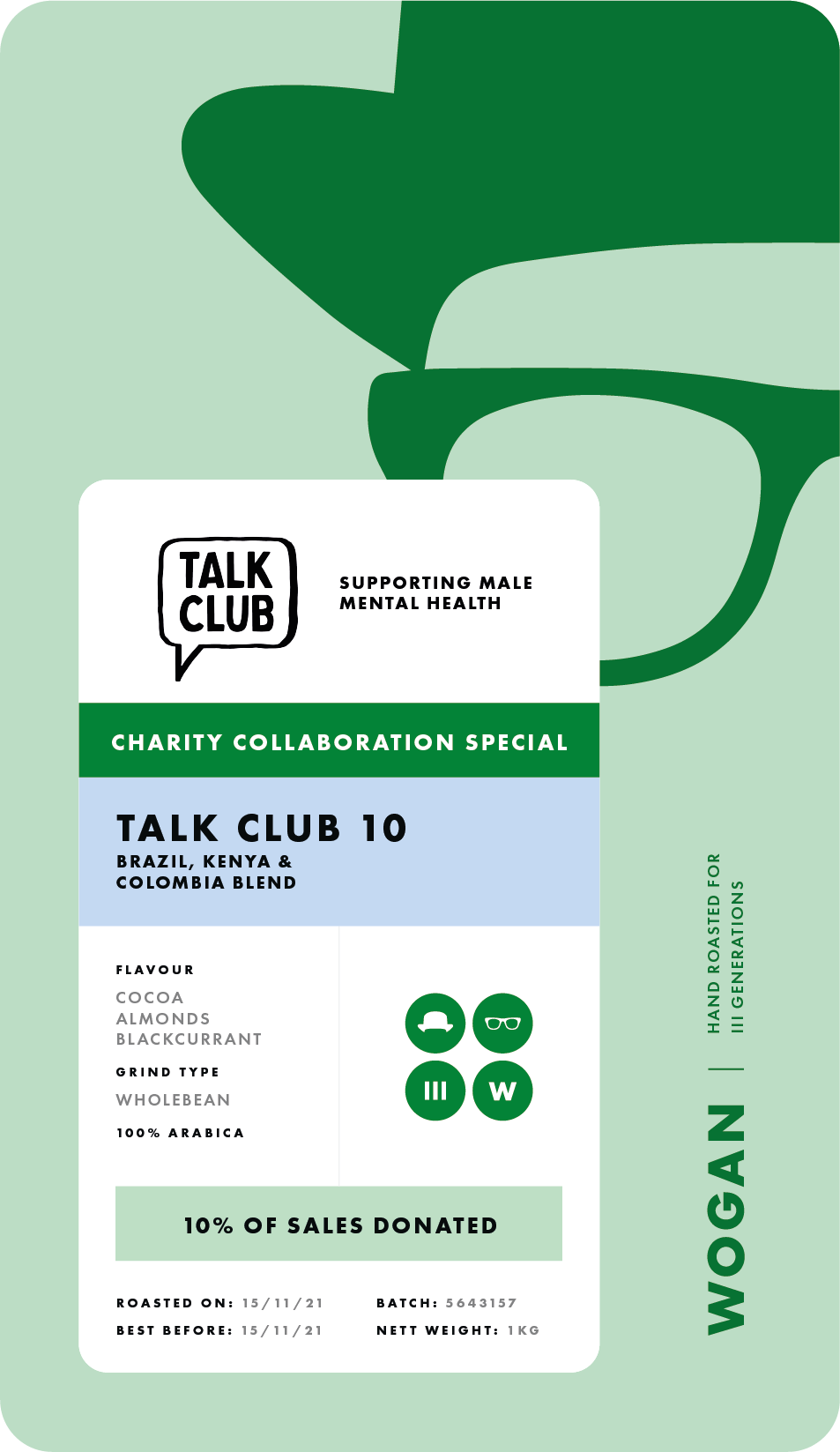 Cocoa ~ almonds ~ apple & blackcurrant
Typica, SL28, yellow catucai  | 
WASHED & red honey PROCESS  | 
blend  | 
100% ARABICA  | 
1050-1850m
10% of sales are donated to Talk Club; a behaviour-changing movement and charity aimed at getting men to talk more openly about their thoughts, feelings, worries, and day-to-day gripes.

The initiative
We have teamed up with Talk Club to create a bespoke blend, in order to support their incredible cause. The idea is for people to take 10 minutes out of their day and ask a friend (or check in with themselves!) "How are you out of 10?".
As the cost of living continues to soar, mental health services across the UK have seen a 90% increase in referrals to its crisis support service over the past six months, with a third of people's mental health issues stemming from financial worries. 
Talk Club is a behaviour-changing movement and charity aimed at getting men to talk more openly about their thoughts, feelings, worries and day-to-day gripes. Talk Club 10 was created in order to tackle this and remove the stigma of talking about mental health to encourage more men to open up and express how they are feeling, all while enjoying a warm cup of coffee.

10% of sales of the delicious blend of Brazilian Mio, Monte Santo de Minas, Colombian La Laguna, Cauca and Kenyan AA, Kianjege sold will go to Talk Club.
Click here to head to their website and learn more. 
What our team says
"It is such a pleasure and an honour to work with Talk Club on this. They have such a powerful mission, that reminds us of the importance of speaking openly and honestly about our mental health. We hope that this bespoke cup of coffee can encourage friends, colleagues or family, to have proper and meaningful conversations to inspire change." James Wogan 
Why Wogan?
Ethical
We work closely with farms worldwide to make sure that coffee farmers are paid a fair price, through Fairtrade and our own Direct Trade certifications. Working hard with coffee farmers to improve their lives and the lives of their families.
Sustainable
We maintain long term relationships with our carefully selected coffee farms, to provide the stability they need to plan for the future. The added bonus? Coffee that improves with every single crop, as their farming practices and equipment improves.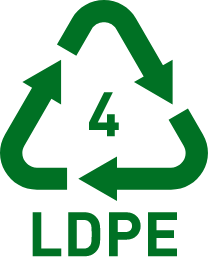 LDPE4 Recyclable
Helping you to do your bit. Our bags are LDPE4 recyclable, meaning they can be recycled in supermarkets. Alternatively, you can check with your Local Authority to see if they will collect it for you. Green lights include mentions of; bread bags, frozen food bags, squeezable bottles, bubble wrap, and carrier bags.
Carbon Pledge
We've pledged to be carbon neutral by 2030, and we're already well on the way. Our warehouses are now powered by solar panels, with the extra juice fuelling our fleet of electric vehicles.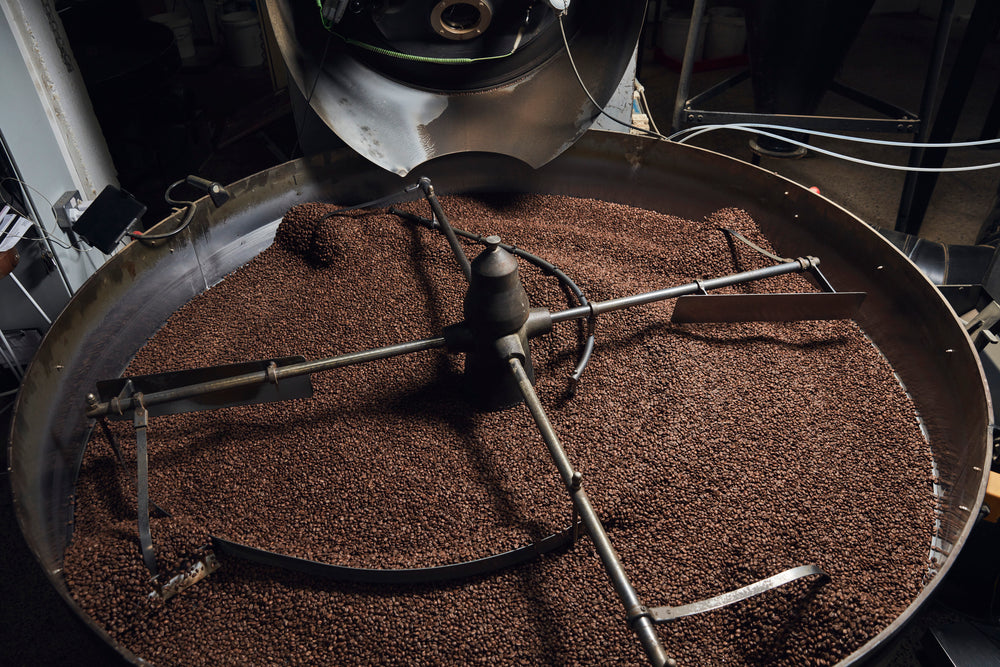 Sustainable and ethical
We've made it this generation's mission to put sustainability at the forefront. We've pledged to be Carbon Neutral by 2030 and are well on our way to getting there. LDPE4 recyclable bags, a Roastery powered entirely by solar energy, and a hell of a lot more.
Discover more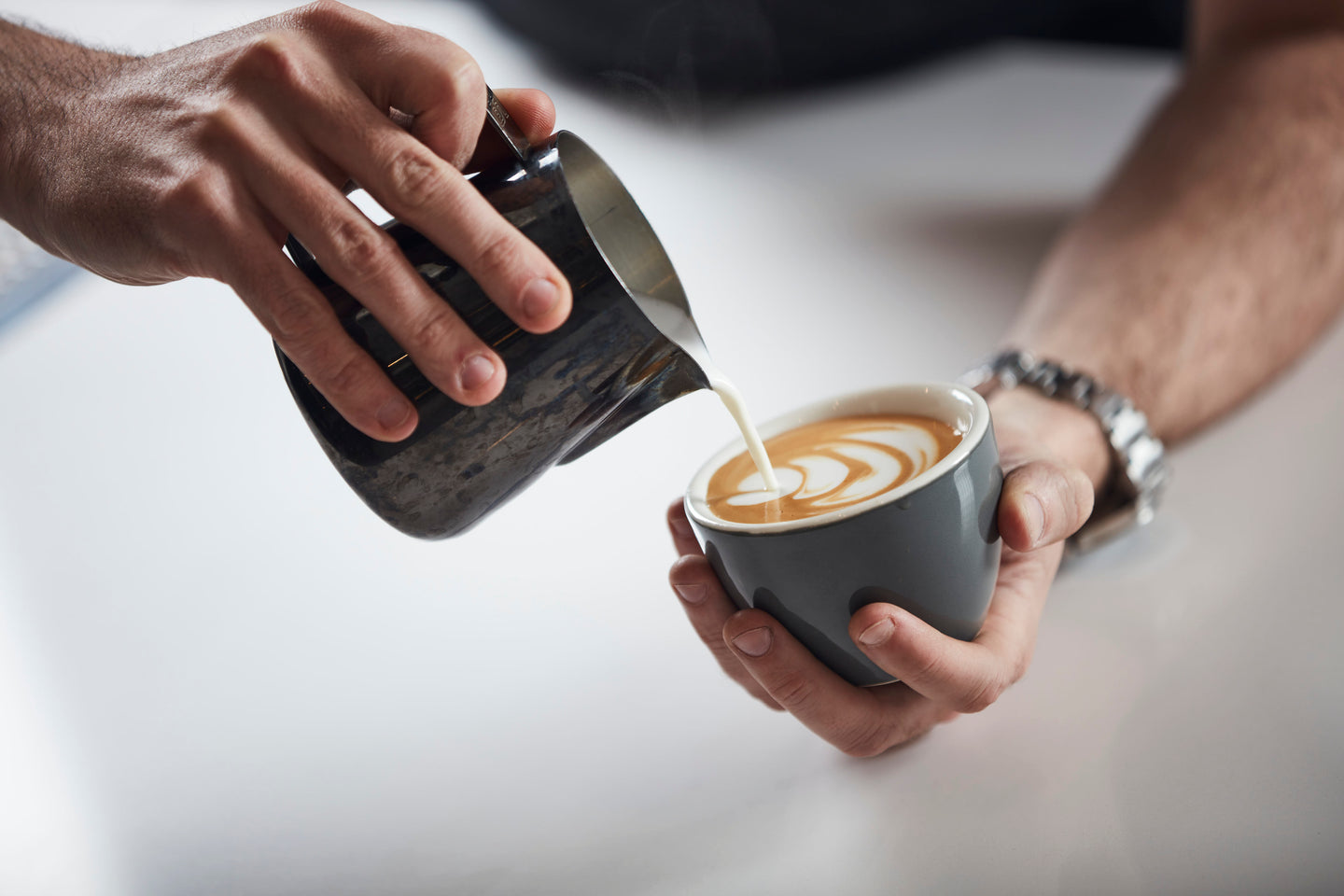 our story
We, at Wogan Coffee, have been lovingly hand-roasting speciality, ethical, sustainable and traceable coffees since 1970. In our third generation, and a wholly independent family company, you can find us rooted in Bristol; the same city as when Mr Wogan established the business over fifty years ago. Laura and James, grandchildren of the bowler hatted gentleman, now have the ropes firmly in their grasp; James as our resident Q Grader in the Bristol Roastery Headquarters, and Laura in London.
more on the Wogans